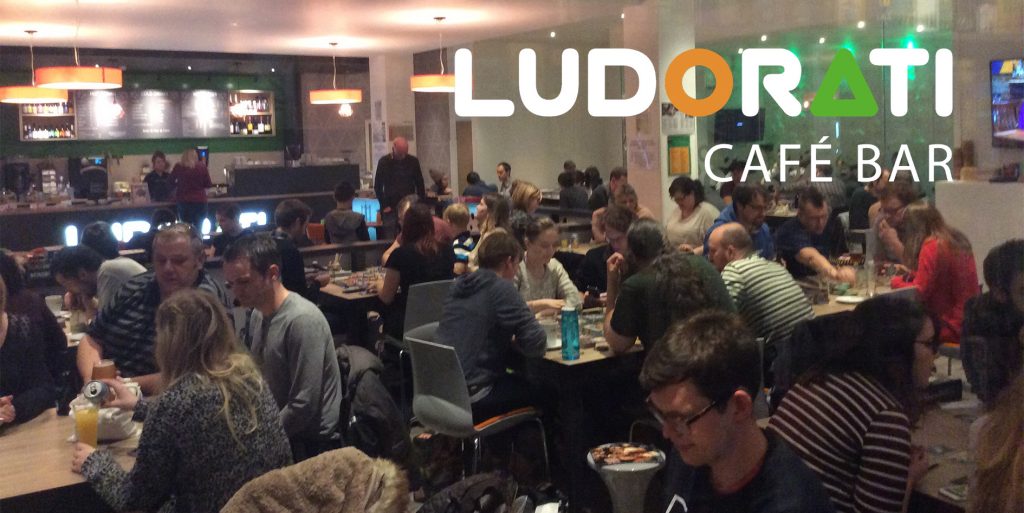 LUDORATI CAFÉ is Nottingham's premier board game/escape room café bar located in Nottingham's city centre close to the castle, at 72 Maid Marian Way. The Café is designed to provide an inclusive community for both gamers and non-gamers to "Relax, Play, Enjoy". Unlike first generation boardgame cafés that started out as shops, Ludorati Café is a full-service, air-conditioned café bar with sumptuous design, a large games library, 2nd generation 'Escape Room' and in-store retail to create the ultimate experience for boardgamers. Alongside our weekly entertainment programme, we feature:
Over 750 games housed on 'The Wall', with many genres catered for, from the traditional e.g. 'Monopoly', 'Risk, 'Cluedo', to more recent 'designer' games e.g. 'Catan', 'Pandemic', 'Ticket to Ride', etc. There is a game for everyone, from newcomers to the serious hobbyist. Families are most welcome.
A dedicated boardgame area with bespoke tables and chairs (seating up to 72) for hours of fun
'Escape-Drome' – offering unique Escape Room scenarios with its dedicated room 'The Cube' that hosts up to 6-8 people. The Cube also acts as a private/business room for hire for up to 10 people.
A wifi enabled general café area with access to a number of classic games including Chess, Scrabble, Go, Backgammon, Othello, Pente, Draughts and Uno
Resident boardgame baristas experts on hand for support with game choice and/or rules assistance, and boardgame coaches who can be hired for advice on game play and strategy
GamesLab – offering customers planned sessions on learning new games, free of charge, covering the current top 100 popular games, new releases, staff recommendations and other games in the library collection
An in-store retail area that offers over 100 titles and a state-of-the-art click & collect service on thousands of other available games – an unbeatable offering
Everyone visiting the café can also simply sign up for our Ludorati™ Membership/Reward card which provides discounts of games, food & drink, as well as special benefits such as table reservation priority, invitations to special events and much more…
Those accessing our premium gaming area can choose between a 4 hour block – £6.50 inc. VAT per person, or an hourly rate of £1.99 inc. VAT per person. There is no cover charge to come in and enjoy the general café area for refreshments. Escape Room scenarios start at £4.99 (including VAT) per person.
LUDORATI CAFÉ offers the finest in locally roasted coffee and offers an outstanding food menu with paninis, wraps, sandwiches, salads, pastries, and cakes and cookies etc. (with gluten-free options). Alongside our 'Ludo-Lattes', 'Ludoccinos', 'Ludo-espressos', and 'Ludo-shakes' there's also a carefully selected list of craft beer and wine, together with soft drinks. All served by experienced, professional Baristas.
Our opening times are:
10:00 to 23:00, Monday to Friday
10:00 to midnight, Saturday
10:00 to 22:00, Sunday.