We recognise that the games library provides a huge choice, but the stumbling block for many members is knowing which games they'd like to play and the time required to learn alongside those they already know and enjoy. Obviously game experts are on hand to assist but there are limits to this availability at any given time.
Therefore we've invented the GamesLab – a means of offering customers planned sessions on learning new games, free of charge. We are holding up to 50 learning sessions per week covering the current top 100 popular games, new releases, staff recommendations and other games in the library collection. Sessions last for 1 – 2 hours.
Every 4 weeks the programme is repeated providing plenty of opportunity throughout the year for players to learn new games. Members (non-members can still register and sign up on the day) will also be able to register their interest in library games outside of the Top100 that they would like to learn by clicking the button below: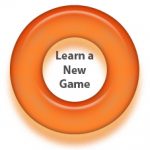 Sessions are triggered once a minimum number of registrations (normally 4) are received.
Also announcing new Monday and Thursday evening 'GamesLab Supersessions' where members and newcomers can come and learn some of the most popular games from 17:00 onwards. A place can be reserved by visiting http://lcsupersessions.questionpro.com/
The GamesLab will also offer more advanced coaching sessions on game strategies and game mechanics to supplement the learning sessions and these will be advertised in due course.
The Top 100 actually includes 120 titles that are based on various ranking lists and adapted by Ludorati Café Ltd. Please note that Monopoly, Cluedo/Clue, Scrabble, Uno and Trivial Pursuit are not included due their widely accepted play. Chess is categorised separately for this exercise. Those games denoted by N are recently released games whose popularity matches the Top 100 and are thus included. This list will be subject to change over time.
The Top 100

1.      Catan
2.      Carcassonne
3.      Pandemic
4.      Dominion
5.      Agricola
6.      Puerto Rico
7.      7 Wonders
8.      Ticket to Ride
9.      Powergrid
10.    Small World
11.    Citadels
12.    Race for the Galaxy
13.    King of Tokyo
14.    Love Letter
15.    Arkham Horror
16.    Stone Age
17.    Bohnanza
18.    Dixit
19.    Munchkin
20.    Lost Cities
21.    Lords of Waterdeep
22.    Twilight Struggle
23.    Battlestar Galactica
24.    Forbidden Island
25.    The Resistance
26.    Caylus
27.    Magic the Gathering
28.    Risk
29.    Splendor
30.    The Castles of Bergundy
31.    Alhambra
32.    Tigris & Euphrates
33.    Hanabi
34.    Galaxy Trucker
35.    Shadows over Camelot
36.    Robo Rally
37.    Bang
38.    Terra Mystica
39.    Memoir 44
40.    Eclipse
41.    Hive
42.    Android: Netrunner
43.    Le Havre
44.    El Grande
45.    Betrayal at House on The Hill
46.    Cosmic Encounter
47.    Blokus
48.    Coup
49.    Mage Knight
50.    Dead of Winter
51.    Takenoko
52.    Through the Ages: A Story of Civilization
53.    Tzolkin
54.    Ra
55.    Thurn & Taxis
56.    Acquire
57.    Saboteur
58.    A Game of Thrones: Boardgame
59.    Hey That's My Fish
60.    Kingsburg

61.    Apples to Apples
62.    Jaipur
63.    Robinson Crusoe
64.    Twilight Imperium
65.    For Sale
66.    Tikal
67.    Star Realms
68.    The Princes of Florence
69.    The Lord of The Rings: Card
70.    Coloretto
71.    Tsuro
72.    No Thanks
73.    Codenames
74.    Ghost Stories
75.    Smash Up
76.    Elder Sign
77.    Caverna
78.    The Pillars of The Earth
79.    Ingenious
80.    Saint Petersburg
81.    Suburbia
82.    Zombies
83.    Seasons
84.    Survive Escape
85.    Dominant Species
86.    Last Night on Earth
87.    Village
88.    Samurai
89.    Five Tribes
90.    Descent
91.    Lord of the Rings
92.    Fluxx
93.    Machi Koro
94.    Flashpoint
95.    Eldritch Horror
96.    Zooloretto
97.    Modern Art
98.    Sushi Go
99.    Mr Jack
100.  Kingdom Builder
101.  Space Alert
102.  Quarriors
103.  Forbidden Desert
104.  Formula D
105.  Alien Frontiers
N1.   Sheriff of Nottingham
N2.   Roll for The Galaxy
N3.   Castles of Mad King Ludwig
N4.   Imperial Settlers
N5.   Patchwork
N6.   Istanbul
N7.   Camel Up
N8.   One Night Ultimate Werewolf
N9.   Colt Express
N10. Star Wars Imperial Assault
N11. Tokaido
N12. Russian Railroads
N13. Kemet
N14. Nations
N15. King of New York