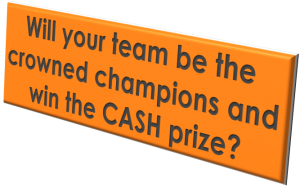 The café has launched its Ludorati™ Masters Game League to appeal to those who may wish to compete in teams, playing some of the more popular games, over a 'season' schedule.
The league will operate with a number of entered teams, playing a selection of the Cafe's most played games over 8 weeks (on Thursdays) with cash equivalent prizes. These teams will require four people to participate each week (Selected from a registered 'squad' of up to 10 players) to cover for availability, knowledge and/or expertise. Lots of fun, lots of great time to 'play and enjoy'. So whether you're an organisation, society/club, or a private group you can enter.
Each week one game is chose (as per schedule below) with each player participating in two game plays (rounds), scoring points for their teams depending on where they finish position-wise. The League night starts at 19:00 and scheduled to finish at 22:00. To play in the League, the cost per person per week is charged at a special rate of £6.00 (inc. VAT). There is a final week dedicated to a presentation/prize evening and having more fun!
If you're interested in registering a team, you can email your enquiry to ludoratimasters@ludoraticafe.com or call into the café and talk to a member of staff. Or, you can go right ahead and register your team/squad via LUDORATI MASTERS 2018.
SPRING SEASON 2018 SCHEDULE

SUMMER SEASON 2018 SCHEDULE

AUTUMN/WINTER SEASON 2018 SCHEDULE